Content Marketing – What's Next?
How to be a thought leader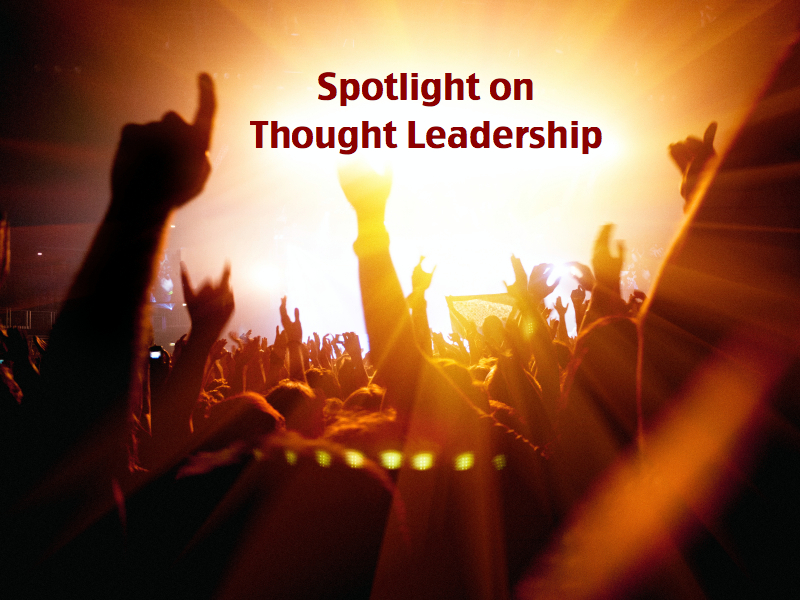 Have you heard? We're all publishers now.
With content marketing, anyone can find, curate and share information – make like publishers or media companies.
So let's say you're doing it.
Rocking this content marketing thing. You're proactive and responsive, staking your claim to a corner of the Internet and building a bit of a reputation. And it seems to be working – you're generating leads and getting new business.
Is that all there is?
But you're getting that nagging feeling – is this it? Just this relentless (and to be successful, it needs to be just that – constant pushing out of quality material) feeding of the content marketing beast.
Or is there a content marketing 2.0? Somewhere to aim for that takes you beyond the everyday best practice and consistency.
And the answer to that is: "Yes!"
Welcome to thought leadership
Thought leadership is a means of turbo-boosting your content marketing.
It takes you beyond participating (important for starters) or being an expert (your next step). After all, anyone can be an expert just by calling themselves one.
It's all about reputation
Thought leadership is not what you say about yourself but what people in your marketplace are saying about you. It's when your audience singles you out as having authority and influence – when you become someone worth stopping for and listening to.
It's expertise that's been tested and passed with flying colours. Something bestowed on you by others once you've built a considerable headwind of trust and respect over time.
Those "by others" and "over time" bits are key. You don't become a thought leader by promoting yourself as one. The recognition stems from putting yourself out there with original content that plugs into and also shapes the zeitgeist.
It's nurtured and sustained by consistency and over time. And grows when your content is shared and commented on, with you taking part in the conversations.
New light through old windows
The thought leadership mantle becomes a distinct possibility when your audience sees you as someone who creates value. For example:
– easy to follow advice that gets to the heart of their issues
– a new and unusual way of looking at things
– evidence that you've helped others just like them, succeed
And remember it's them, your 'tribe' (followers, customers, advocates), the people you serve, who decide.
Why go for it?
Quite simply, it's good for you and your business. Thought leaders are experts whose authority and stellar reputation precedes them.
They attract more and better quality clients, and so grow their business.
Can you become a thought leader?
Some characteristics that contribute to becoming an authority:
Thoughtfulness: the clue is in the word "thought" in thought leader. Making sure you have a plan – knowing why you're doing things and having something considered, rigorous and valuable to say.
Courage: standing by your opinions, defending them, not being afraid to be controversial (although not in a subversive, "look at me," for its own sake way) and knowing when to admit you're wrong.
Generosity: of spirit and deed; promoting others, thanking people and interacting with your community, and giving information and advice freely without expecting anything in return.
Respect: self-respect and respect of others.
Curiosity: a thirst for learning and exploring new ideas, information and technologies.
Patience: as the song goes, "you can't hurry love" and as with love so with this – thought leadership takes time.
Ambition: wanting it – wanting to get your content seen, heard and talked about.
How to start on the path to thought leadership
No one says it's going to be easy. Inevitably it takes time, hard work, a dash or inspiration and some luck.
Here's 6 tips to help get you started with 'content marketing plus:'
1) Find your niche
Step back and take a good hard look at your marketplace and your place in it. Narrow it down and find a niche that you can own – one that you'd be comfortable leading in – and then serve your audience.
2) You've got to be in it etc
Be proactive in your marketplace – anticipate issues before they arise, respond to questions and drive debate. Use social media to drive your content and also as a means of listening to your audience.
For example you can start small straight away by always introducing a piece of curated content (tweets or Google Plus posts) with your own interpretation, posing a question or pulling out a pertinent quote.
3) Identify the influencers
Ask yourself who already wields influence in your area or complementary area. Connect with them – ask for advice, share their content, promote them – be interested and interesting without being creepy.
4) Claim your place in the sun
Strike out, go beyond your website or blog and dare to say yes to speaking gigs and teaching opportunities (online and offline). And get yourself some expert help if you feel your presenting skills are not up to scratch.
5) Don't reinvent the wheel
Copy what's working already, build on trends that have traction offering your own take, adding value to what is out there. This is called the skyscraper technique.
6) Celebrate "you"
Ironically, these two men, giants in their respective fields (surgery and advertising), have already put this rather well, so over to them:
"The more personal you are willing to be and the more intimate you are willing to be about the details of your own life, the more universal you are…"
(Sherwin Nuland – from a Brainpickngs article Jan 2015)
And if you're still not convinced, here's more on the theme from David Ogilvy widely regarded as the 'Father of Advertising:'
"I have a theory that the best ads come from personal experience. Some of the good ones I have done have really come of the real experience of my life, and somehow this has come over as true and valid and persuasive."
Only you know how to be you and to share your unique experiences. Your really powerful content addresses something that matters to your audience, offers a new take on their issue from a personal perspective and makes them feel you really understand.
So, leave your comfort zone, challenge and surprise yourself – I'd love to hear how you're taking your content marketing to the next level!